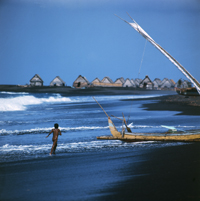 Fratello Mare
The story behind the production of this film is particularly interesting. Folco Quilici, who was 25 years old, after making Sesto Continente, successfully presented at the Venice Film Festival (1954), set off with an Arriflex 35 mm camera and 10 x 120 metre reels of film to the Tuamutú islands in Polynesia. He filmed various scenes of a world still totally faithful unto itself. Back in Italy, he was selected to shoot a film in the Congo and then appointed to direct Ultimo Paradiso, "Silver Bear" at the Berlin Festival (1956). The following years were hectic ones for him and he ended up forgetting the film material shot in Polynesia, by himself, in 1954.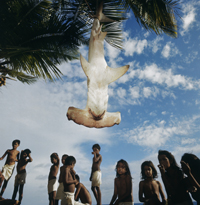 In 1972, an old film disposal company informed him they had found, among a quantity of material to be destroyed, 9 x 35 mm boxes containing 120 metres of developed and intact film. Twenty years afterwards, Quilici again came into possession of film reels showing islands that had meanwhile been rapidly transformed by tourism and the fishing industry. Convinced of the rarity and preciousness of those films, he shot a film based on the tale of an old fisherman who evoked his sea as it was when he was a child. This film, entitled Fratello Mare, was ready in 1975 and was presented at the "Teheran International Festival", where it took a Special Prize, and at the "Cartaghena International Festival" (Spain) where it won the Grand Prix.


In 1976, the film was bought by a Japanese producer and was successful in various countries of the East. After the Japanese company closed down, the negative of Fratello Mare was lost again and not recovered until Folco Quilici visited Japan in 2002. He decided to restore the film and save the seriously damaged 35 mm negative. After restoration, in 2006, the 35mm negative of Fratello Mare was transferred onto digital master.