Foreste, elefanti, magie, pigmei, vacanze, paure, tuareg, diamanti, amori, sciamani, kalahari, aborigeni, harem, tigri, maya, samarcanda, chott, serpenti, orsi, termiti, boukhra, incas, aral, struzzi, yemen, schiave, varani, pappagalli, orinoco, archi, plesiosauri, reincarnazioni, leoni, amazzoni, kazaki, frecce, sinantropo, timbuctu, nilo, malesia, mongoli, tesori, siberia, sapa inca, bufali, veleni, nomadi, caimani, stregoni, lance, pulci, cicloni, regine, pantere, tepui


Il nuovo libro di Folco Quilici per Mondadori Editore, in tutte le librerie.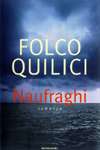 Two rich, young, self-possessed singles, Tom's Italian, Jo's American, meet on vacation in Greece. Caught in a sudden, violent storm while sailing a catamaran they are washed ashore on an apparently deserted island. At the height of Summer in the middle of the Mediterranean Sea rescue promises to be only a matter of time, but that is not to be the case. Days pass.
As intense solitude sets in, the castaways lose contact with every day reality. .
Arnoldo Mondadori Editore, Milano. Pag. 300.
Re-published in to "Best Sellers Book" by Mondadori 1999.